ASSOCIATED PRESS
Sen. Jeff Flake's "wastebook" targets unnecessary spending. But it also has had a chilling effect on the world of science.
The worlds of science and politics came together twice on Wednesday afternoon, and the collisions couldn't have been more diametrically at odds.
Inside the White House, President Barack Obama gathered with young students to celebrate the wonderful possibilities of scientific discovery. The president's inner nerd came out as he spoke about experimentation and inquisitiveness. His annual science fair — a time to launch marshmallows from makeshift cannons and blow bubbles from wands made with 3D printers — is as much a showcase of youthful brain power as it is an incentive for proud geeks to enter the field.
On the opposite end of Pennsylvania Avenue, grown-up scientists put on an exhibit of their own, this one illustrating just how unwelcoming that field can be when less sympathetic politicians enter the mix.
In the Russell Senate Office building, a veritable all-star lineup of maligned researchers gathered. Their work would be familiar to anyone who has read the "wastebook" put together by Sen. Jeff Flake (R-Ariz.) or has watched Rep. Lamar Smith (R-Texas) lead a House Science Committee hearing: In the back corner was that guy who watched shrimp run on treadmills; off to the side was the woman who pondered why fat girls can't get dates; in the middle of the room was the person who studied cows in China; near the bar was the man who sent text messages to drunk people; and in the back was the scientist who started a fight club for shrimp (it's always those damn shrimp!).
These researchers had come to Capitol Hill to make the case that their congressional tormentors had gotten their work profoundly wrong. Far from being taxpayer-funded jesters in the world of science, they were doing work of merit and promise. And while they had the resumes and wherewithal to withstand the scrutiny, their worry was that future scientists — the ones hanging out with Obama — would look at the crucible and decide to stay far, far away.
"I am rock solid about my research. I know it is very good," said Sheila Patek, an associate professor of biology at Duke University who led the so-called Fight Club-for-shrimp study. "But this wastebook targeted a short paper that was the first paper in my young graduate student's career. … He is from a long line of firefighters. His father, his uncle, his grandfather. There aren't any other scientists in his family. They are very proud of him. He is extremely civic-minded. I don't think I've had anyone in my lab like that. And this has been crushing for him."
Speaking with deliberate care for each word, Patek couldn't hide how affected she has been by this episode.
"I tell him this is not personal. This is a game. He knows his work is great. It was published in a great journal, and we worked for years to get that science right. But when you're that young and you're getting started and you are not sure if you want to do this hardcore competitive game… that kind of thing is tough," she said. "And he actually wrote me a letter earlier this week. He couldn't say it to me in person. And he wrote about how he was really sorry that his work had brought this attention on the lab."
Contra what Flake said in his book, Patek and her graduate student didn't set up a crustacean-themed Fight Club. Nor did the federal government give her $700,000 for that purpose. That sum was for all of her studies.
The focus of the infamous study is actually quite in symmetry with Republican priorities. Patek and her team are looking into the ability of mantis shrimp to generate incredible force without the assistance of outside factors. They're trying to answer questions like: How it is that a shrimp's toothpick-sized hammer can break snail shells in water when humans have to use a larger hammer to do the same in air? A discovery could eventually lead to dramatic changes in human-engineered defense systems. The research already has sparked changes in engineered materials designed to resist impact fracture.
"It is a beautiful and elegant study," Patek said.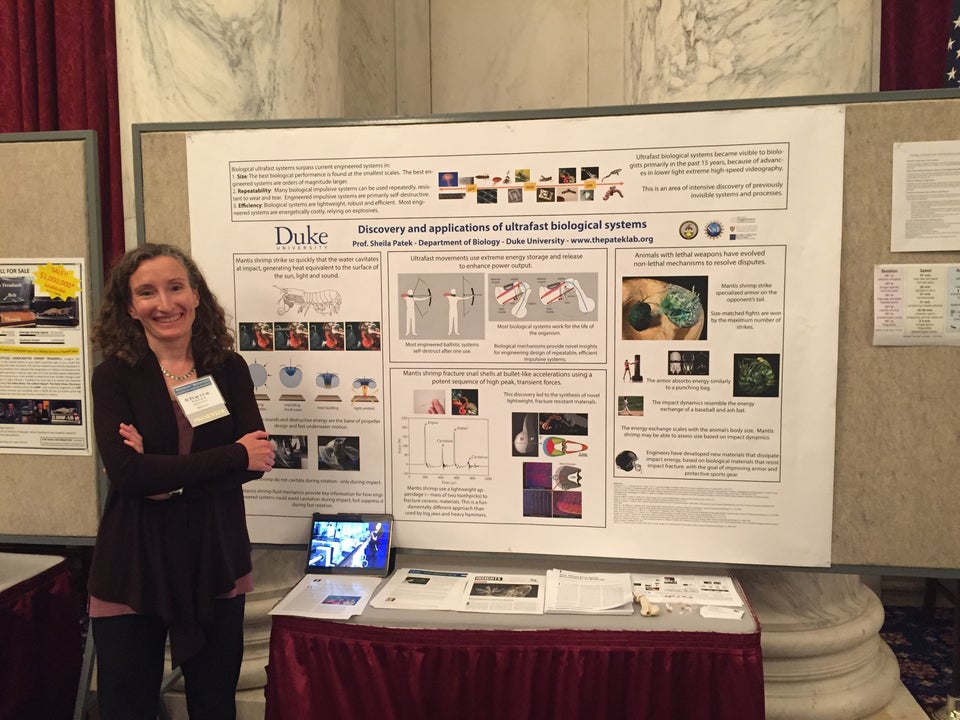 Patek was surrounded by researchers with similar gripes about their comic portrayals.
Aletha Akers, an assistant professor of pediatrics at The Children's Hospital of Philadelphia, was the one who looked at how obesity in adolescence affects sexual behavior. Far from figuring out how to get fat girls laid, she looked at why obese teenagers are more likely to engage in risky sexual behavior even though they are less likely than other adolescents to date. Why this mattered was entirely self-evident to Akers: Developing smart intervention strategies could have public health benefits, like decreasing the number of pregnancies before the age of 13.
The National Institutes of Health saw the promise, awarding Akers a $2.5 million, five-year grant, for which she and the NIH have been steadily mocked.
"Sex research can be uncomfortable, and then sexual health is something that can really be uncomfortable for people," she said of her critics.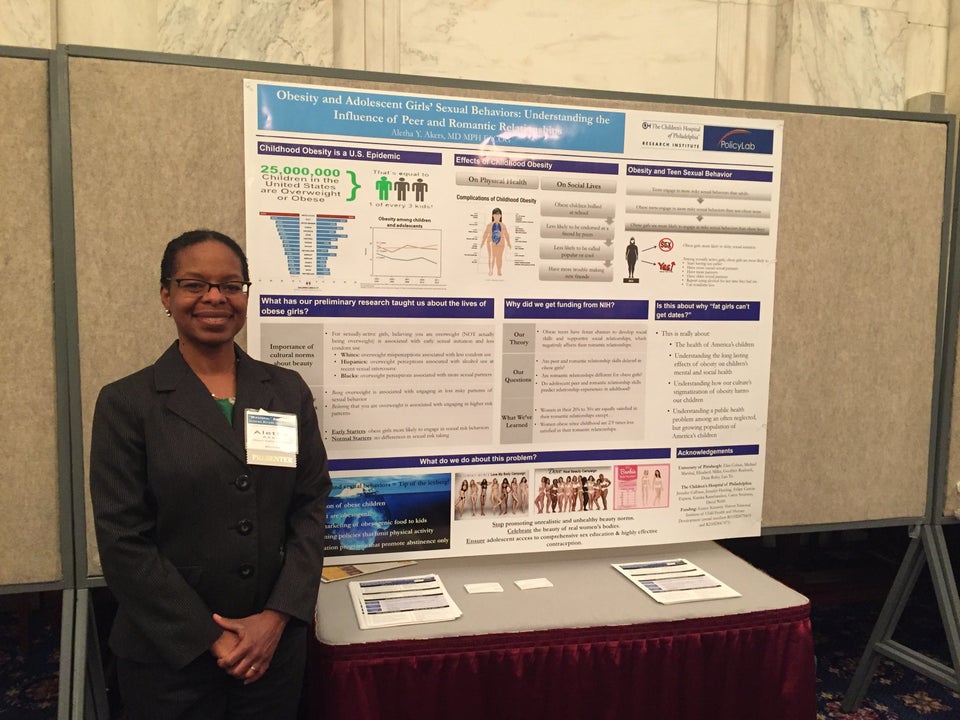 In a booth across the aisle was Megan Tracy, an assistant professor of anthropology at James Madison University. During a stint with the Peace Corps, she became fascinated by the way the Chinese government regulated its food industries. The National Science Foundation gave her $150,000 to investigate the impact of a poorly regulated milk market in that country, which, sure enough, had congressional critics wondering what good it did the American taxpayers to help China with its dairy. What they overlooked, Tracy noted, is that the United States imported more than $28 billion worth of food from China in 2013.
During a House Science Committee hearing in 2013, Smith called five projects, including Tracy's, essentially indefensible. He then sent a letter to the NSF demanding that it justify the research. It was a shock to science-research advocates who have long argued that peer review, not politics, should determine what research merits grant money.
"It made us a little tentative for a while," Tracy recalled. "Our concern was that there would be ramifications."
David A. Scholnick, an associate professor of biology at Pacific University, stood nearby. His was the experiment in which shrimp took to a treadmill — perhaps the most widely mocked undertaking of government-funded scientific research in recent memory (Stephen Colbert even got in on the act). What Scholnick has been uncovering, though, is a potentially monumental problem. Warming oceans are causing a growth in certain bacteria in the gills of shrimp, and the damage of that buildup is far greater than previously known.
Considering that Americans eat more than 5 billion pounds of shrimp every year, Scholnick concluded that his work could have a major influence on everything from production to food safety.
Critics accused him of wasting $3 million — a number he scoffs at. He built the treadmill himself for $47. "I would love to have a grant for $3 million," Scholnick said.
And finally, appropriately standing near the bar, was Frederick Muench, who the conservative Free Beacon said had taken $480,500 from the NIH to "text message drunks." Not surprisingly, Muench has a different way to describe his work: He's been devising an intervention strategy for people who drink heavily but are not yet alcohol-dependent. He has found that specifically adapted text messages can dramatically influence consumption habits. Working at the Feinstein Institute for Medical Research, he received a three-year NIH grant for $750,000.
He only discovered that his project was being criticized when someone sent a press clipping his way. "Fred," the note read, "I think this is your study."
Remarkably, Muench wasn't the only researcher in attendance who found out that they'd been turned into a punchline only after the joke was delivered. Tracy heard about her role in that 2013 congressional hearing while she was in China– a reporter from ScienceInsider tipped her off when he reached out for comment. Patek, likewise, only found out about her inclusion in the wastebook when someone from ABC's "Good Morning America" asked for a reaction.
And so, as they made their presentations on Wednesday afternoon to those in attendance — a mix of science advocates, Hill staffers and reporters, including one from the aforementioned Free Beacon — these researchers also couldn't help but conjure up visions of what they'd say if their adversaries in Congress were to swing by.
And then, it happened.
Flake entered the room shortly after the session began. He had been invited by the hosts, the Coalition to Promote Research and the Coalition for National Science Funding. But no one actually thought he'd show.
Yet there he was, talking to researchers about their work and even taking a picture with the "shrimp-on-the-treadmill guy" (Scholnick's words, not Flake's). The crowd grew notably more tense. Eyes began following him as he moved booth to booth. Flake is a notoriously thrifty conservative who has long argued that the NIH's $30 billion budget is bloated and that there are few defensible reasons for why taxpayers are picking up the tabs of these seemingly nonessential studies.
But as he headed for the door, about 20 minutes after having entered, there were signs of optimism from the organizers. Perhaps, one pondered, Flake would be more open-minded, having seen the research up close.
Before he left, I asked Flake what he thought.
"This has been enlightening, and we want to make sure we are accurate. It is a learning process," he said. As for reaching out to the scientists before he deems their research wasteful, all he would say was: "We'll work with them."
County officials across Mississippi are warning of job losses and deep deficits as local jails are being deprived of the state inmates needed to keep them afloat. The culprit, say local officials, is state government and private prisons, which are looking to boost their own revenue as sentencing and drug-policy reforms are sending fewer bodies into the correctional system.
In the late 1990s, as the overcrowded Mississippi prison system buckled under the weight of mass incarceration, the state asked local governments to build local correctional institutions to house state prisoners. It was billed as a win-win: The Mississippi Department of Correction would foot the bill for each prisoner, and the counties would get good jobs guarding them. The state guaranteed that the local jails would never be less than 80 percent occupied, and the locals would get a 3 percent boost in compensation each year.
After a few years, say local officials, the state offered a new deal: Instead of the 3 percent bump, they would give the locals more and more prisoners, thus boosting total revenue. Today, the state pays $29.74 per day per prisoner to the regional facilities, a deal that worked for everybody as long as the buildings were stuffed full with bodies.
Scott Strickland, president of the Stone County Board of Supervisors, said reforms at the state and local levels have shrunk the prison population. "Federal laws took some part in that — allowing prisoners to serve only a certain percentage of their term," he said. "Also, they've reduced prison sentences for certain drug-related offenses."
As the wave of mass incarceration begins to recede, the Mississippi controversy has local and state officials talking openly about how harmful locking up fewer people up will be for the economy, confirming the suspicions of those who have argued that mass incarceration is not merely a strategy directed at crime prevention. "Under the administrations of Reagan and Clinton, incarceration, a social tool used for punishment, also became a major job creator," Antonio Moore, a producer of the documentary "Crack in the System," wrote recently.
"I don't think it necessarily started out this way, but the inmate population has become the backbone of some of these counties that are involved," said Mississippi Corrections Commissioner Marshall Fisher as the controversy heated up.
The prisoners have value beyond the per diem, county officials add, when they can be put to work. State prisoners do garbage pickup, lawn maintenance and other manual labor that taxpayers would otherwise have to pay for. Convict labor has made it easier for local governments to absorb never-ending cuts in state funding, as tea party legislators and governors slash budgets in the name of conservative government.
The state knows it, and now demands that local jails house state convicts who perform labor for free, George County Supervisor Henry Cochran told The Huffington Post. The counties take the deal. "You're either gonna go up on everybody's garbage bill, or you've gotta house those inmates," Cochran said. "You're using that inmate labor, so [taxpayers are] getting a little good out of that inmate for their tax dollars. You either gotta hire a bunch of employees or keep that inmate. It's like making a deal with the devil."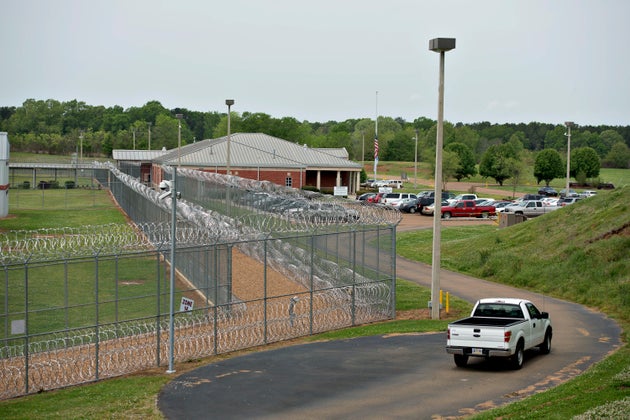 State lawmakers can claim to be acting conservatively, Cochran said, but they're not responsible for the consequences of their decisions. "The state's dumping responsibility on local government," he said.
Fisher said in February the state Corrections Department would begin repossessing prisoners from local institutions in order to "reduce spending by $5 million to comply with Gov. Phil Bryant's recent order."
In a statement at the time, Fisher said that he was re-evaluating the agency's spending, given "low pay, high turnover, critical staff shortages, and aging facilities."
The state was paying prison guards so little that it couldn't even find staff for its community work centers, which run the convict labor program, Fisher said. Mississippi, in other words, couldn't even afford free labor. "I don't like having to close community work centers, but we simply don't have the staff to keep some of them operating. Until we improve the pay of corrections officers, staffing will continue to be a critical issue," Fisher said.
Like Mississippi, neighboring Louisiana, as well as Kansas, have recently become laboratories for conservative policy, with hard-line Republicans slashing taxes and dramatically cutting spending. The argument was that the tax cuts would fuel growth. Instead, the states have become economic basket-cases — Kansas actually performed worse economically than its neighbors. Deficits in Kansas and Louisiana both soared and basic services have been cut beyond the bone.
The next to fall in Mississippi will be workers at regional jails that have lost 20 percent of their inmates. Officials in Stone County and George County said that around 40 employees in each would be laid off if the jails were forced to close, a necessity if the inmate population or the state reimbursement doesn't increase. The counties are losing $72,000 per month each, officials said. Both counties still owe significant sums on bonds that financed the jails, so even if they shut them down to stop the bleeding, taxpayers will still be on the hook.
"It's a game," said Scott Strickland. "The commissioner of corrections wants raises for all his state employees, so he's trying to cry wolf."
Strickland noted that it costs the state roughly $43 per day to lock people in Mississippi facilities, and that none of the inmates in Stone County were looking forward to being moved. "They treat them rough up there," he said of the state prisons.
Jeffrey Schwartz, a consultant who has advised jails and prisons, said Mississippi's battle is a strange turn of events. "It is a state that has had lots of problems within corrections. This is quite a new twist," he said. "In the great overcrowding days, there were battles between the counties and the state over whether the state had to take inmates from the counties, and the states said we're not taking any more, and the sheriffs said, well you have to." A sheriff, Schwartz recalled, once dropped inmates off at a state prison, handcuffed them to the fence, and drove off.
But local officials are investigating whether the state inmates are instead winding up in private prisons. "According to their reports, they have some private prisons that they are actually paying up to $80 a day. I think it's political favors going around, the reason they're doing that, but that's neither here nor there," Strickland said.
Mississippi contracts with a Utah company called Management and Training Corp. to house some of its prisoners. Stone County Supervisor Dale Bond questioned why the state would send inmates to the private prison at more than double the cost of transferring them to a county facility. "Some of these private prisons have got 1,000 inmates and they're getting that large per diem," he lamented. Management and Training Corp. wasn't immediately able to comment.
"By the end of May, we'll be well over a quarter-million in the red on that facility," said Bond of Stone County's facility. "If they do not send us our inmates back, we can't make it."
Bond said the county supervisors have asked for permission to bring prisoners from out of state to cover the shortfall, but he worried red tape will slow the flow of human traffic. "I don't know how reliable that is. By the time we get that approved, we're gonna be broke," he said.
At a recent meeting with state officials, Bond said, the state Corrections Department offered to pay off one sheriff's bond and close the county facility, but he turned down the offer. "No, we don't want that, we want the jobs," the sheriff said.
For Strickland, something has to give. "In a way, we were sort of devastated. That revenue needs to be made up," he said.
Sign up here to get an email when Ryan Grim writes a new story.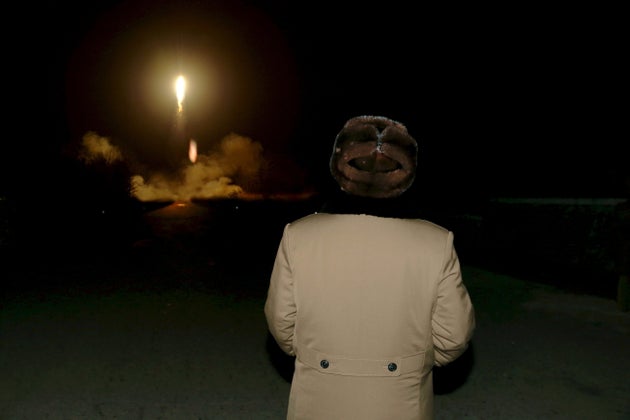 KCNA KCNA / Reuters
SEOUL (Reuters) – North Korea attempted to launch an intermediate range ballistic missile off the country's east coast on Friday but the launch failed, South Korea's Yonhap News Agency reported.
The failed launch follows North Korea's fourth nuclear test in January and a long-range rocket launch the next month, which led to fresh U.N. sanctions.
Yonhap said the failed launch appeared to be a Musudan missile with a range of more than 3,000 kms (1,800 miles).
An official at the South Korean defense ministry said North Korea was attempting a missile launch early on Friday morning but the launch appeared to have failed, however, the official could not confirm the type of missile.
The U.S. military detected and tracked the missile launch at 0533 Korea time, or 2033 GMT on Thursday, a Defense Department spokesman said in a statement. The missile did not pose a threat to North America, the statement said.
A U.S. State Department official said: "We call again on North Korea to refrain from actions and rhetoric that further raise tensions in the region and focus instead on taking concrete steps toward fulfilling its international commitments and obligations."
The United States, which has 28,000 troops stationed in South Korea, said on Thursday it was aware of reports that North Korea was preparing to test intermediate-range missiles and was closely monitoring the Korean Peninsula.
Friday is the anniversary of North Korean founding president Kim Il Sung's birthday, April 15, and is widely celebrated in the isolated country. In 2012, the day was marked by a long range rocket launch attempt, which also failed.
On Thursday, North Korea deployed one or two Musudan ballistic missiles on its east coast in apparent preparation for the launch, South Korea's Yonhap news agency reported, citing multiple South Korean government sources.
The Musudan missile, with a design range of more than 3,000 km (1,800 miles), is not known to have been flight-tested, according to South Korean defense ministry and experts.
Some experts have said North Korea may choose to test-fire the Musudan in the near future as it tries to build an intercontinental ballistic missile designed to put the mainland United States within range.
North Korea, which regularly threatens to destroy South Korea and the United States, often fires missiles during periods of tension in the region or when it comes under pressure to curb its defiance and abandon its weapons programs.
(Reporting by Ju-min Park, additional reporting by David Brunstrom in WASHINGTON, Writing by James Pearson, Editing by Michael Perry)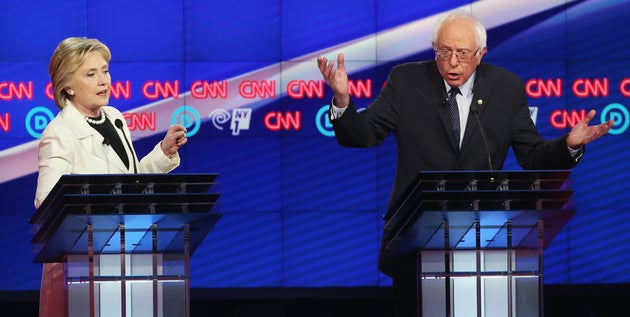 Justin Sullivan/Getty Images
Democratic Presidential candidates Hillary Clinton and Sen. Bernie Sanders (I-Vt.) debate on April 14, 2016 in Brooklyn ahead of the New York primary to be held April 19.
Sen. Bernie Sanders (I-Vt.) argued during Thursday's Democratic debate that the Palestinian people should be treated with dignity and that the United States shouldn't always kowtow to Israeli Prime Minister Benjamin Netanyahu. Hours earlier, Sanders' campaign suspended its new Jewish outreach director for advocating the exact same positions.
The ninth debate between Sanders and former Secretary of State Hillary Clinton featured a heated discussion about whether Israel's invasion of Gaza in the summer of 2014 was a disproportionate response to rocket attacks fired into its territory by Hamas, as Sanders has said it was.
It was a seminal campaign moment, made more salient because it happened in New York, a state where Jews comprise a larger share of the Democratic primary electorate than elsewhere.
Clinton argued that Israel had a right to defend itself from terror attacks and blamed the Palestinians for failed peace negotiations. Sanders said something relatively sacrilegious for an American politician — that Netanyahu "is not right all of the time."
"As somebody who is 100-percent pro-Israel … in the long run, if we are ever going to bring peace to that region, which has seen so much hatred, and so much war, we are going to have to treat the Palestinian people with respect and dignity," Sanders explained. "I believe the United States and the rest of the world have got to work together to help the Palestinian people. That does not make me anti-Israel. That paves the way, I think, to an approach that works in the Middle East."
This is what Simone Zimmerman, Sanders' now-suspended Jewish outreach director, said she believes. And it's a good distillation of what J Street, the progressive advocacy group fighting for a two-state solution and against inertia in the American Jewish community, believes. (Zimmerman was president of J Street's campus arm, J Street U, while in college.)
As The New York Times reported Thursday evening, Sanders' campaign suspended Zimmerman just two days after it hired her, after the conservative Washington Free Beacon published a past Facebook post of hers in which she wrote, "F— you Bibi," using Netanyahu's nickname, and described the Israeli leader as "arrogant, deceptive, cynical" and "manipulative." She criticized Netanyahu for trying to "derail" the Iranian nuclear negotiations and for leading the charge into Gaza, where roughly 1,500 Palestinian civilians were killed during the 2014 invasion.
(President Barack Obama also seems to agree with Zimmerman: He has complained about having to deal with Netanyahu, and a member of his administration reportedly called the prime minister "chickenshit." In turn, Netanyahu's spokesman has called Obama anti-Semitic and Secretary of State John Kerry "childish." Obama and Netanyahu's personal relationship, setting aside their countries' working relationship, is the worst ever between an American president and an Israeli prime minister.)
Zimmerman's suspension suggests a couple of things, including that Sanders' campaign does not vet staff members and that it feared alienating New York's Jewish voters if it didn't respond to the calls for her firing.
"The smear campaign being waged against Simone Zimmerman is a reflection of how out-of-touch the American Jewish establishment is with the Jewish community," said Yonah Lieberman, who co-founded If Not Now with Zimmerman and others. The group is dedicated to ending the American Jewish community's support for the occupation of the Palestinian territories to bring about the creation of a Palestinian state
"This is not the first sign of this disconnect — it just the most blatant example of the American Jewish establishment trying to intimidate and silence young people acting on the very Jewish values we were taught by our community," Lieberman continued. "The Jewish establishment won't stand for anyone criticizing Israel — no matter the truth or reason. When young Jews call for freedom and dignity for the Palestinians, the establishment can only respond with intimidation and fear."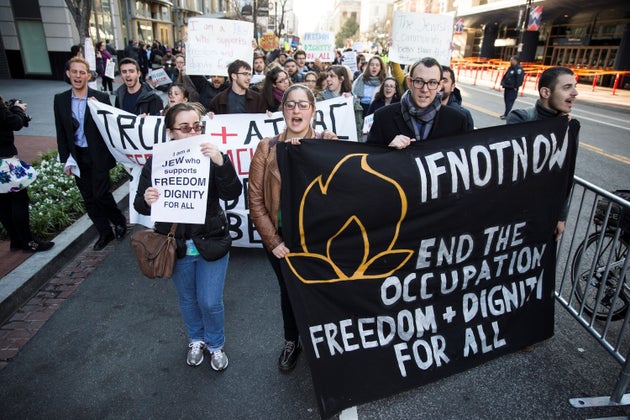 Those who would otherwise have been thrilled with Sanders' debate rhetoric about being more "even-handed" in approaching the Israeli-Palestinian conflict were instead furious with him for suspending Zimmerman.
Max Berger, another If Not Now co-founder, started an #IStandWithSimone hashtag campaign on Twitter, which picked up more tweets as Sanders spoke during the debate.
Sanders' comments about the Israeli-Palestinian conflict during the debate would have made waves at the American Israel Public Affairs Committee's annual policy conference last month in Washington. He gave his stellar AIPAC speech at a high school in Utah, speaking at length about how settlements are counterproductive to peace. Clinton, in contrast, mentioned Israeli settlement construction just once in her AIPAC remarks and said the sorts of things that AIPAC supporters love to hear.
Sanders criticized Clinton for "barely mentioning" the Palestinians.
"I heard virtually no discussion at all about the needs of the Palestinian people," he said. "Almost none in that speech. … Of course Israel has a right to defend itself, but long term, there will never be peace in that region, unless the United States plays an even-handed role, trying to bring people together, and recognizing the serious problems that exist among the Palestinian people."
Clinton responded: "Describing the problem is a lot easier than trying to solve it."
"I was the person who held the last three meetings between the president of the Palestinian Authority and the Prime Minister of Israel … and I was absolutely focused on what was fair and right for the Palestinians, I was absolutely focused on what we needed to do to make sure the Palestinian people had the right to self government … and get an agreement that will be both fair to the Israelis and the Palestinians without ever undermining Israel's security," she added.
Clinton capped her defense by arguing, "Nobody is saying that any individual leader is always right."
Said Sanders: "There comes a time when if we pursue justice and peace, we are going to have to say that Netanyahu is not right all of the time."
That's the sort of tough talk that might get Sanders fired from his own campaign.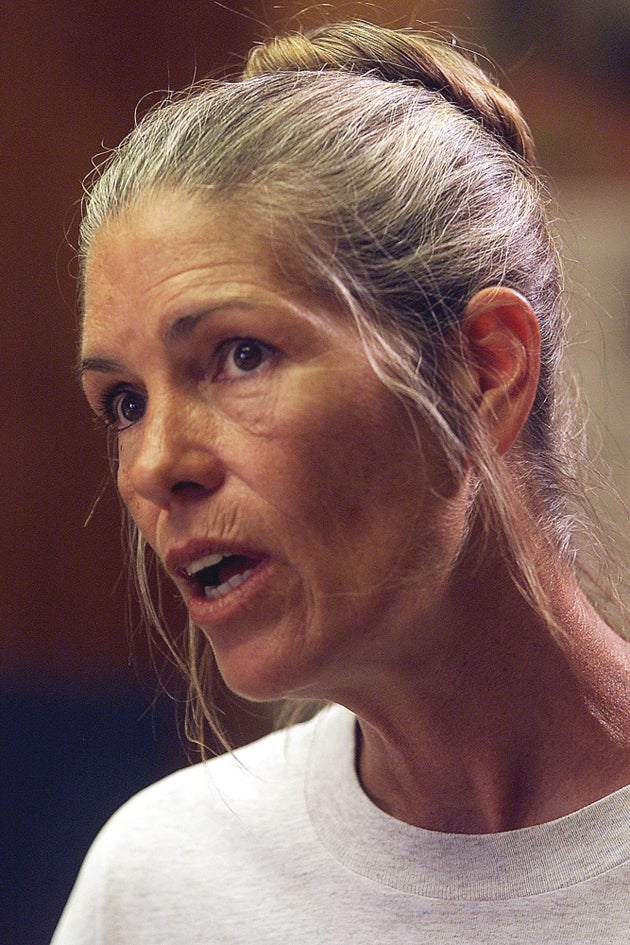 DAMIAN DOVARGANES via Getty Images
By Dan Whitcomb
LOS ANGELES, Calif. (Reuters) – Leslie Van Houten, who as a follower of cult leader Charles Manson took part in one of the most notorious mass murders of the 20th century, on Thursday was recommended for parole, a first step towards freedom after more than four decades in prison.
Van Houten, 66, has been serving a life sentence for the murders of Leno and Rosemary LaBianca, who were stabbed to death in their Los Angeles home on Aug. 9, 1969.
Manson, now 81 and serving a life sentence, directed his mostly young, female followers to murder seven people in what prosecutors said was part of a plan to incite a race war between whites and blacks.
A two-member panel of California's Board of Parole Hearings recommended parole for Van Houten after a hearing with her at the state prison in Corona, California, where she is serving her sentence.
The ruling is subject to an administrative review by attorneys for the board before going to Governor Jerry Brown. Brown can uphold the recommendation, overturn it or order further hearings.
Van Houten was found guilty of the LaBianca murders in 1971 and sentenced to death but that conviction and sentence were overturned on appeal. She was retried, convicted and sentenced to life in prison in 1978.
The La Biancas were stabbed to death, after which the killers used their blood to write "Rise," "Death to Pigs" and "Healter-Skelter", a misspelled reference to a Beatles song, on the walls and a refrigerator door.
Also among the victims of the Manson Family was actress Sharon Tate, the pregnant wife of filmmaker Roman Polanski. She was stabbed 16 times by cult members.
Four other people were stabbed or shot to death at Tate's home that night by the Manson followers, who scrawled the word "Pig" in blood on the front door before leaving. Van Houten was not involved in the Tate murders.
Manson is serving a life sentence at Corcoran State Prison in California for the seven Tate-LaBianca killings and the murder of another man, Gary Hinman, in July 1969.
A spokesman for the Los Angeles County District Attorney's Office, which prosecuted Van Houten, had no immediate comment on the ruling.
(Reporting by Sara Catania and Dan Whitcomb in Los Angeles and Sharon Bernstein in Sacramento; Editing by Howard Goller)
Sen. Bernie Sanders (I-Vt.) struggled to explain his position Thursday on whether Sandy Hook families should be able to hold the manufacturer of the AR-15 gun used in the 2012 massacre liable in a wrongful death lawsuit.
Sanders voted for a 2005 law that grants immunity to gun manufacturers for injuries caused by their products.
Since then, the Protection of Lawful Commerce in Arms Act has been used by gun manufacturers and retailers to quash hundreds of lawsuits filed by victims of gun violence. The law is deeply unpopular among Democrats, and then-Sen. Hillary Clinton (D-N.Y.) voted against it.
"They have the right to sue, and I support them and anyone else who wants the right to sue," Sanders said in the CNN Democratic debate.
But "if a gun shop owner sells a weapon legally to somebody and that person then goes out and kills somebody, I don't believe it is appropriate that that gun shop owner who just sold a legal weapon to be held accountable and be sued," Sanders added.
The weapon used in the Sandy Hook mass shooting was purchased legally by the shooter's mother. So, what Sanders was saying is that he believes the Sandy Hook victims should have a right to sue — and lose.
When Clinton pointed out that Sanders voted five times against the landmark Brady gun-control bill, Sanders retreated to a position more often used by pro-gun advocates, namely, that government must "make certain that guns do not fall into the hands of people who should not have them."
And while Sanders said he supports a ban on military-style automatic firearms, or "assault weapons," he insisted that the gun industry plays no part in America's epidemic of gun violence.
While sparring over criminal justice policy during Thursday's Democratic primary debate, Sen. Bernie Sanders (I-Vt.) accused Hillary Clinton of using a "racist term" in 1996.
Clinton has faced significant criticism for previously using the word "super-predators," a now-debunked term that she said at the time referred to children with "no conscience, no empathy" who were committing crimes and had to be brought "to heel."
At a campaign event in New York City earlier this week, Sanders jabbed Clinton for using the phrase, calling it "unacceptable."
"I think we all know what that term meant in the context that it was said years ago," he said. "We know who they were talking about."
He took that criticism a step further when asked during the debate to explain why he had called Clinton out.
"Because it was a racist term, and everybody knew it was a racist term," he responded.
At a campaign fundraiser earlier this year, Clinton apologized for her past remarks.
Sanders' jab came during a broader discussion about the 1994 crime bill, a piece of legislation that Clinton championed as first lady and that Sanders voted for as a member of the House. It is widely accepted that the law contributed to an era of mass incarceration by implementing harsh penalties for lower-level offenses, which had a disproportionate impact on communities of color and the poor.
On Thursday, Clinton said the law included positive aspects, like the Violence Against Women Act, but that the sentencing requirements of the bill were problematic.
"There were decisions that were made that now we must revisit and we have to correct," she said. "I think that sentences got much too long. The original idea was not that we would increase sentences for nonviolent low-level offenders, but once the federal government did what it did, the states piled on."
"I'm sorry for the consequences that were unintended and that have had a very unfortunate impact on people's lives," Clinton added.
Sanders largely agreed, suggesting that the bill's net impacts had been catastrophic.
"We have a broken criminal justice system," he said. "We have more people in jail than any other country on Earth. In my view, what we have got to do is rethink the system from the bottom on up."
Sanders then pivoted to drug policy, saying it was time to turn away from an approach that has for decades tried — and failed — to address drug use with strict punitive measures and aggressive law enforcement.
"We have got to have the guts to rethink the so-called war on drugs," he said. "Too many lives have been destroyed because people possess marijuana. Millions over a 30-year period. That's why I believe we should take marijuana out of the federal Controlled Substances Act."
Sanders has introduced legislation in the Senate to do just that. The bill would remove weed from the Drug Enforcement Administration's list of the "most dangerous" drugs, giving states a green light to legalize pot for recreational or medical use without federal intervention. It would also allow for expanded research on the medical benefits of marijuana.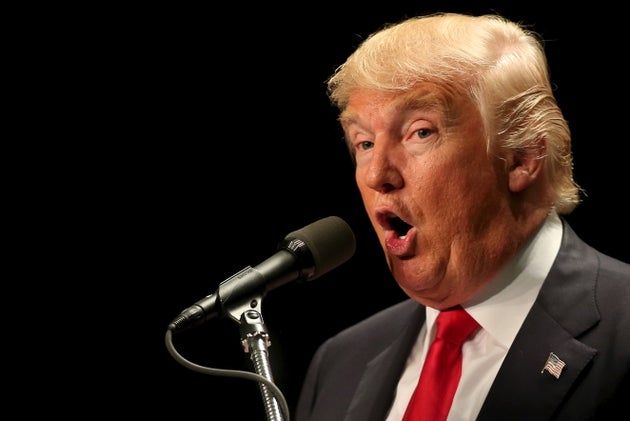 Aaron Josefczyk / Reuters
Real estate mogul Donald Trump's top aide has sounded the alarm over delegate problems in Georgia.
Donald Trump got out-hustled in Colorado — where the superior grassroots organization of Sen. Ted Cruz saw the Texan sweep all 34 of the state's delegates who will appear at the Republican nominating convention in Cleveland.
Trump's supporters fear a similar outcome in Georgia on Saturday, where Republicans will gather in each congressional district to pick more than half of the 76 delegates and their alternates for the convention.
The real estate mogul"s top campaign aide in the state sounded the alarm on Thursday.
"Mr. Trump won Georgia by more than 14 points, almost 200,000 more votes than his next closest rival," Trump state director Brandon Phillips wrote in an email, according to the Atlanta Journal Constitution. "He also carried 155 counties out of 159. Ted Cruz didn't win a single county. Because of this landslide victory, Mr. Trump was awarded 42 delegates. We're asking that the Republican officials honor his victory this Saturday with fair representation."
"If you are willing to attend one of these meetings this Saturday morning and show your support for Mr. Trump, please contact the volunteer coordinator nearest you," he added.
However, as the AJC notes, the deadline to attend a meeting as a delegate has passed — convention delegates were selected last month at county-level meetings across the state.
The reality TV personality's supporters appear to be unaware of the rules. Some have aired their grievances on Facebook. Others have urged fellow Trump fans to call district chairs and protest. One post on the "Georgia for Donald Trump" Facebook page claims Rachel Little, chair of the Georgia GOP for the 4th congressional district, is "not allowing known Trump supporters to interview as a delegate."
"The establishment likes to say we don't know the rules and yet they won't give them out when people ask. She is also not allowing known Trump supporters to interview as a delegate for Cleveland. Please call ASAP and ask her why she is abusing her power," reads the post.
The group complains in another post about Mike Fitzgerald, chair of the 6th district GOP, tells supporters to call and "ask him to stop dragging his feet on providing the necessary paperwork for Trump supporters to attend the convention."
The deadline to be considered as a Delegate or Alternate in the 6th District, was April 7. The rules for doing so are clearly posted on the Georgia GOP website.
Trump carried Georgia by 14 points — winning 42 of the state's delegates. Those delegates are only bound to vote for him on the first ballot. If Cruz's campaign manages to ensure that some of those delegates are favorable to his cause, he can increase the chances of winning the nomination on the second ballot.
Requests for comment to Little and Fitzgerald were not immediately returned.
Credit: Mic Smith/Associated Press
The New York Post on Thursday endorsed GOP front-runner Donald Trump for the Republican presidential nomination.
The tabloid's editorial board cited the "plain-talking," "born and bred" New Yorker's "common-sense sensibilities" and said Trump had the skills and know-how "to live up to his campaign slogan: to make America great again."
"Here's how we see it," the paper says in its editorial. "Trump is now an imperfect messenger carrying a vital message. But he reflects the best of 'New York values' — and offers the best hope for all Americans who rightly feel betrayed by the political class."
The editorial mentions Trump's "downright coarse" language — perhaps referring to his xenophobic, sexist, and patently false statements — but notes the candidate has "never been a professional politician."
"Indeed, his political incorrectness is one of his great attractions — it proves he's not one of 'them,'" the editorial says.
The endorsement flies in the face of an editorial published last month by The Washington Post, which warned a Trump presidency would be a "radical risk" for the country. The Washington Post chastised Trump's "willingness to ignore facts and evidence" and his vague, often misguided statements on foreign policy. The newspaper's Chris Cillizza called Trump's interview with the paper's editorial board "totally bananas."
But the New York Post links these "rookie mistakes" with what it says will make Trump "a potential superstar of vast promise." Trump has, after all, incited many new voters to partake in the political process, the paper argues.
Editor's note: Donald Trump regularly incites political violence and is a serial liar, rampant xenophobe, racist, misogynist and birther who has repeatedly pledged to ban all Muslims — 1.6 billion members of an entire religion — from entering the U.S.
Democratic presidential candidates Hillary Clinton and Sen. Bernie Sanders (I-Vt.) faced off Thursday in a debate in Brooklyn, New York, just five days before the state's primary. As expected, things got heated.
Also as expected, several prominent male political reporters and pundits criticized the former secretary of state's voice.
Hillary's voice is annoying.

— Sonny Bunch (@SonnyBunch) April 15, 2016
I don't think I'll be able to take listening to an annoyed President Hillary at a White House press conference using this voice

— John Podhoretz (@jpodhoretz) April 15, 2016
For the love of God, Hillary, please lower your voice.

— Hendrik Hertzberg (@RickHertzberg) April 15, 2016
For the love of God, please stop.
Sadly, this is a frequent line of attack against Clinton, during both debates and speeches. Earlier this year, legendary Washington Post reporter Bob Woodward said he was annoyed with her "screaming," and Fox News host Geraldo Rivera was concerned that she may have "a hearing problem."
While most of the criticism has come from men, they insist it isn't sexist, even though male candidates, like Sanders and the Republican presidential contenders, rarely receive the same critiques.
Sanders also raises his voice during speeches and in tense exchanges at debates. At one point on Thursday, both candidates were yelling over each other so loudly that moderator Wolf Blitzer had to pause the debate.
"If you're both screaming at each other, the viewers won't be able to hear either of you," he said.
Clinton herself made note of the double standard in March.